GENUS
GLOBAL ENGAGEMENT of UNIVERSITAS nahdlatul ulama surabaya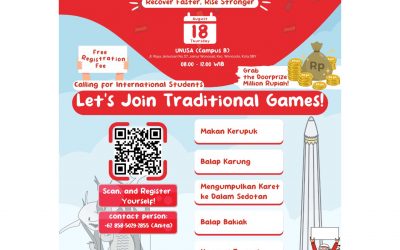 To celebrate Independence day of Indonesia, Global Engagement of Universitas Nahdlatul Ulama Surabaya hold The Splendor of the 77th Independence Day of Indonesia by playing Indonesian traditional games for International Students Regional Surabaya-Malang. What are you...
Global Opportunities
CYUT, Taiwan Schoolarship   Warm greeting from UNUSA!   For all UNUSA Academics, that would like to take…
Whats New?
COACHING CLINIC On Preparing a Successful Research Grant Proposal     Please enjoy the following free coaching clinic…
Announcement
Dear NUMINAL Camp UNUSA 2020 participants,   The World Health Organization (WHO) has declared Coronavirus Disease (COVID-19) previously known…
About Us
Global Engagement of Nahdlatul Ulama University of Surabaya (GENUS) coordinates all international activities at the Universitas Nahdlatul Ulama Surabaya (UNUSA). It is the central contact point for students and lecturers from abroad, before, during and after their time at the UNUSA. Likewise, it supports students and lecturers from UNUSA with all issues concerning international mobility and cooperation.
Our Programs and Activities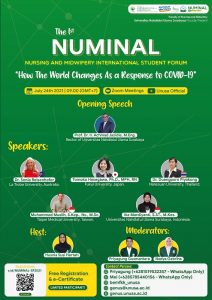 Numinal Camp
UNUSA NUMINAL CAMP  (Nursing and Midwifery International) Student Forum is a forum that discusses an issue or current event in the world. The activity takes the form of Seminars and discussion forums with various speakers in various countries. The participants in the NUMINAL Student Forum came from undergraduate international and national students. NUMINAL Student Forum is held by Faculty of Nursing and Midwifery, Universitas Nahdlatul Ulama Surabaya. NUMINAL also offers some events such as Student Forum, Video Competition and Poster Competition. In 2021, NUMINAL Forum is participated by 6 countries. They are Taiwan, Timor Leste, Philippines, Thailand, Indonesia and Malaysia.
faculties and study programs in unusa
Emerging Technology
Nulla porttitor accumsan tincidunt. Pellentesque in ipsum id orci porta dapibus. Lorem ipsum dolor sit amet, consectetur adipiscing elit. Lorem ipsum dolor sit amet
Financial Services
Nulla porttitor accumsan tincidunt. Pellentesque in ipsum id orci porta dapibus. Lorem ipsum dolor sit amet, consectetur adipiscing elit. Lorem ipsum dolor sit amet
"PREPARING RAHMATAN LIL 'ALAMIN GENERATION"